If you have spent more than five minutes with me, or seen any of my social media, I'm sure it'll come as no surprise that I am madly in love with Ringo Starr.
I know baby, I know.
However… My love for the Beatles goes so far beyond my little obsession with the blue eyed Muso of my dreams.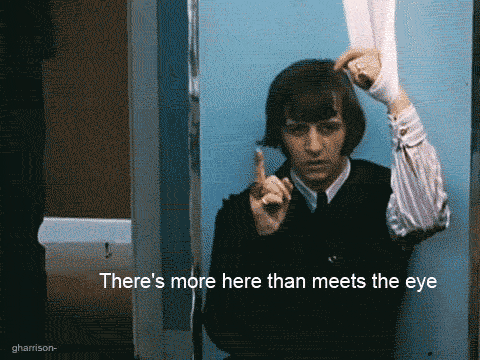 If we go way, way back, the first time I ever heard them was at my lovely friend Alice's house in primary school. I remember digging it and when I got home asked Mumma about them.
"We don't like the Beatles."
"Oh, okay."
And that was that until I turned twenty three. What can I say? I'm impressionable.
I actually can't remember what it was that spurred my sudden interest. One day I just got this urge to go looking. It was one of my first 'digging expeditions' (what I call it when I spend days balls deep in artist's back catalogues searching for gold).
I found lots of hits I recognised. Lots. I had no idea how many amazing songs they had brought in to the world. I was starting to get lost in their beautiful stories and I'd chuck on an Anthology on a Sunday afternoon.
Then, while scanning the internet for Coachella highlights from my other favourite band, I came across this:
I don't think up until that point that I had ever let a song truly move me outside of the Dreamgirls soundtrack. I. Was. Shook.
I mean, it's Alex bloody Turner, the greatest poet of our time, crooning along to a song that had me tingling all over. I had to dig further.
Then I found it.
The album. The most perfect album I had ever heard.
Abbey Road.
I bought the vinyl within days of my first official listening. The day she arrived I placed her lovingly on my record player and laid on the floor between my giant speakers, only moving to flip her over; a few times.
This album, to me, is start to finish flawless.
This may be less of a review and more of a love letter to the men blew my mind and changed my life. After finding this album, I fell in love with all music. Before, I enjoyed my tunes, but then something shifted. I don't know if I love people as much as I love some of my bands and songs. I have out-of-body experiences sometimes when I hear something I connect with. I tear up. Oh my God, don't even get me started on key changes. Orgasmic.
I am forever thankful for every second of music they brought to us, and the passion they've instilled in me, but here is my run down of the best 47 minutes I've ever had:
SIDE ONE
Come Together
Written by John Lennon
If you've ever tried to learn the lyrics to this song, well done. It's a mess. It's got the sexiest vibes and is definitely one of their hotter tunes. It just goes to show, when you've got a good bass line you don't need good lyrics (I tease. It takes skill to write that much gibberish).
Something
Written by George Harrison
I absolutely adore this song. It's my favourite of George's across all the albums. It gets me right in the chest every time. I remember the first time I saw Love by Cirque du Soleil and their interpretation was so beautiful. Every time I hear it I'm transported right back to that arena with those stunning acrobats.
Maxwell's Silver Hammer
Written by Paul McCartney
Look, I know I'm weird, but this song it amazing. I mean… hey, this is probably going to be our last album, how about I chuck in a cheery tune about a serial killer? I think Paul and I would be great friends.
Oh! Darling
Written by Paul McCartney
Without a doubt my favourite vocal performance of sweet Paul. He's got the growl, the range and the fookin passion in this absolute anthem of heart break. I adore it from start to finish.
Octopus' Garden
Written by Ringo Starr
This is why I love him. Ringo's one contribution to my favourite album is one of the most wholesome ditties you'll ever hear. He is to be cherished, my God. Thank you thank you for Richard bloody Starkey and his gigantic heart.
I Want You (She's So Heavy)
Written by John Lennon
My absolute favourite Lennon song. As mentioned above, it's this one that started my love affair with this album. Turn it up loud and lie on the floor. You'll go somewhere magic, I promise.
SIDE TWO
Here Comes the Sun
Written by George Harrison
Not my favourite of George's contributions, but definitely one of the defining Beatles anthems, this song is pure beauty. It's kind and gentle, quite like how I imagine George would have been too.
Because
Written by Lennon/McCartney
Beautiful. From start to finish this tune is a trip. I adore the simplicity of the lyrics, the harmonies, the image of myself floating above the world. It's just unreal.
You Never Give Me Your Money
Written by Paul McCartney

'A song written about having no faith in a person', allegedly this song was inspired by late Beatles financial disputes and the involvement of Allen Klein. All things considered, it's a beautiful tune and I particularly enjoy seeing clips of Paul banging it out on the piano on his recent tours.
Sun King
Written by Paul McCartney
This song shows off two things: the boy's incredibly harmonies, and their ability to pull off absolute nonsense.
Mean Mr. Mustard
Written by John Lennon
Of  course the two most offensive songs on the album are mainly written by John. I love him, but he's so naughty. I adore the visuals of this song though. He's one hell of a good writer.
Polythene Pam
Written by John Lennon
Poor Pam. There's nothing wrong with looking a bit like a man. The way this song crashes in to the next is one of my favourite parts of the album.
She Came in Through the Bathroom Window
Written by Paul McCartney
This song speaks to my soul. Written about an infamous groupie gang the Apple Scruffs and Diane Ashley who once did in fact climb in through Paul's bathroom window. This is the anthem of our star-crossed youth. You've got to embrace your inner groupie guys. There ain't nothing wrong with being a lover.
Golden Slumbers
Written by Paul McCartney
This song has shaken me out of many a bummed out stupor. Paul's vocals are so strong, and the beautiful lullaby flows perfectly in to the next.
Carry That Weight
Written by Paul McCartney
A sing-along anthem if ever I knew one. I love the whole final medley and I think it's incredible the way so many strong small songs can blend to take us to the greatest album finale of all time.
The End
Written by Paul McCartney
I get sad every time this song begins, because I know what it means. I'm going to have to get up and flip it soon. From the stunning little solos to the final words to live by, this song is perfection.
'And in the end, the love you take is equal to the love you make.'
Her Majesty
Written by Paul McCartney

Oh how I used to hate the way this would pull me out of my final note shudders. It's an irritatingly catchy little ditty but you know what? I can't hate anything Paul does. This is a hidden track and he's a wonder.
They are all a gift that we do not deserve.
Thank you for the music.
Thank you for everything.
If you haven't already, you must watch their films. Their quick wit and young faces are magnificent.
Forever yours,
Harleigh Q
xo